Blastware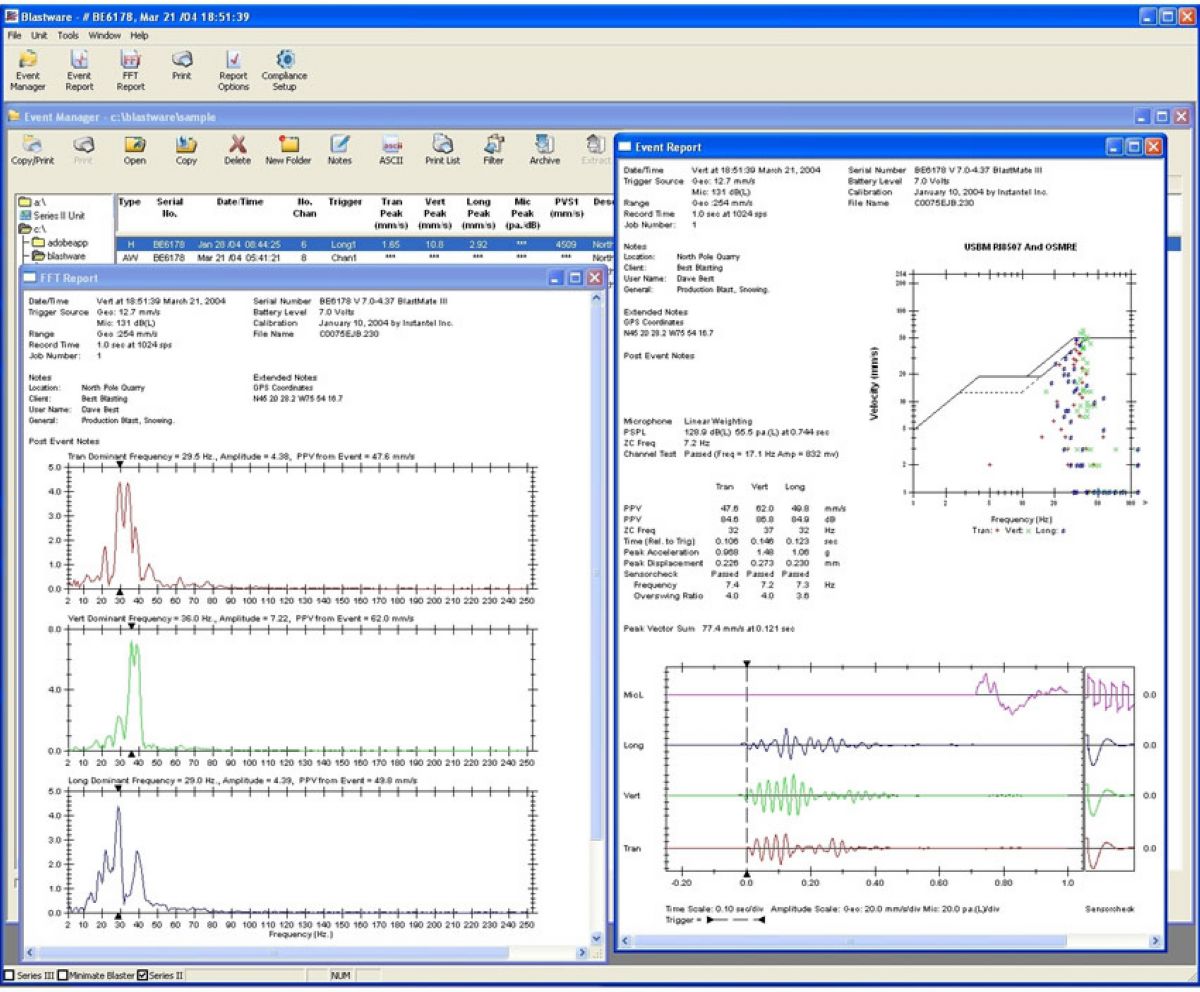 Instantel® Blastware® software, the Windows® software companion to your Instantel vibration monitor offers powerful, easy-to-use features, for event management, compliance reporting and advanced data analysis.
Blastware software is designed to perform several tasks to assist with your monitoring operations. The software can be used to program any Series II, III or IV Instantel monitor, manage recorded events, remotely control monitors, as well as customize report content, language, frequency standard, and more. The program consists of two modules: the Compliance Module and the Advanced Module. The Compliance Module comes standard with each Instantel monitor. The Advanced Module, which is optional, includes powerful data analysis features and extended monitor setup options.
Blastware Compliance Module - Vibration Event Management and Reporting Software

Powerful Event Manager simplifies file transfer from monitor and file management on the computer.

Operator interface is intuitive and user-friendly.

Customized Event Reports with over 20 selectable National Frequency Standards to create compliance reports.

Easy-to-use Frequency (FFT) Analysis and reporting.

Monitoring setup utilities to configure systems for remote monitoring with modem communications.

Blastware Mail automatically distributes event data to email and text messaging devices.

Transfer event data to ASCII format
Blastware Advanced Module - Event Management, Reporting and Advanced Analysis Software
All of the tools, functions, and features of the Compliance Module plus:
Blast Design Simulation tools to perform

Signature Hole Analysis

Language Editor allows operators to customize the user interface of the monitor for specific language requirements.

Real Time (live) data viewing and transfer with Series IV Minimate Pro™ monitors.

Flex™ monitoring for capturing vibration and overpressure, as well as related structural or environmental measurement simultaneously, using an Instantel Series III monitor.

Vibration Dose Value (VDV) record mode for measuring and determining whole-body vibration.

Edit Timeline Analysis tool allows for overlay times for detonations and evaluate impact on measured data.

Extended Frequency (FFT) Analysis reporting tools.

Access to additional Sample Rates for advanced monitoring jobs.

Program monitors's sensor sensitivity for optimal event recording.
Final price : $
Add to cart